PRTEC TENANTS
ESSIG PR
---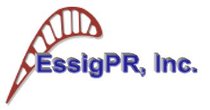 EssigPR Inc, a recent startup company, was formed to support the aerospace and related high tech industries. Our first launch customer is GE-Infrastructures´s Aviation Division. We are excited about the growth opportunities available in Mayagüez, PR.
Services
Repair Development
Essig develops repairs for economical part restoration.
Design/Analysis
Essig was founded on providing complex analytical solutions to the aircraft engine industry.  We provide a wide range of design and analytical services including:
Optimization Design
Structural & Frequency Analysis
Failure Analysis
Thermal Analysis
Computational Fluid Dynamics
Product Support Engineering
Technical inquiries and issues are quickly processed through client engineering in accordance with  procedures.
Contact Information
Mr. Joe Daly, President
Tel: 787-833-2200 
Fax: 787-833-2200
Web: www.essig.com
Address: ViTEC2 TBC La Quinta Ind. Park Balboa 177 Mayagüez, PR 00680