PRTEC TENANTS
Bajari Handcrafted Chocolates
---

BAJARI is a small batch chocolate company that incarnates the search of a carefully alchemized chocolate. We plan our products from the flavor
combination to the packaging, delivering high-end combinations
and ready to gift chocolates. We specialize in gourmet chocolate bars,
bean to bar chocolate, truffles and specialty gifts.
Opportunity
The specialty cacao industry is a growing one and currently in PR there's a rising amount of plantations of high quality cacao. In the world we are seeing a trend in the consumption of origin bean to bar chocolate and there's a big opportunity for us once our plantations begin to produce puertorican cacao. Also there is an uprising effort among puertoricans to consume more locally crafted products.
      Products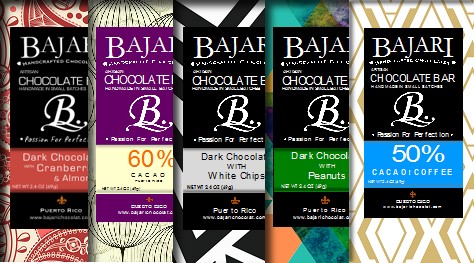 Achievements
•Hit 3001 Season 1 Winner
•JCI 10 Outstanding Young People of PR
•Premio Exito Empresarial Universitario
Contact information:
Paul Curran
787-423-3557
www.bajarichocolat.com